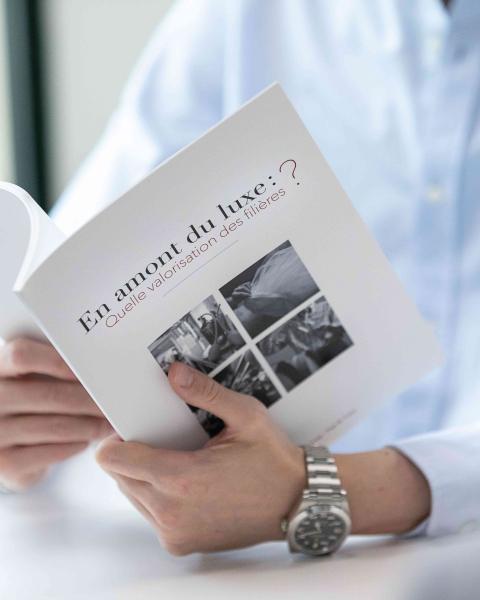 The Sup de Luxe Lab
A research centre dedicated to the world of luxury, its future and its challenges.
The works of the Sup de Luxe Lab
Students and professionals regularly work on the publication of white papers, such as "Luxury 3.0" in 2014 in partnership with Enora Consulting, a study on upstream channels in the luxury sector in 2016 in partnership with the Byo Group, and a barometer on retail in the luxury sector in 2017 in partnership with Nelly Rodi.
Sup de Luxe works on a prospective dimension with the analysis of cases and the publication of works for professionals, researchers and the general public. Such as the Poiray case provided by Mrs. Laura Haddad to the Banque des Cas in 2017.
In 2007, the Institut Supérieur de Marketing du Luxe published "Donnez-nous notre luxe quotidien" (Give us our daily luxury), published by Gualino. Then in 2011, "Le luxe, entre business et culture" was published by France Empire. This book analyses, through twenty or so themes, the fundamentals of luxury as well as the major upheavals it has undergone over the last 20 years: craftsmanship, internationalisation, the concentration of brands, the challenges of communication and the fight against counterfeiting, the new expectations of customers, the digital revolution and the fascination of Asia. The author, a 2007 alumna of the MBA Sup de Luxe, explores the mysteries of this original sector that makes people dream, drawing from its history the source of a constantly renewed creativity.
Finally, in 2019, the book "Le Triomphe du luxe cool" written by Dominique Cuvillier, a communications expert who has been contributing his expertise to Sup de Luxe for 15 years, aims to demonstrate the changing behaviour of the sector's global clientele. A reflection that proves that Sup de Luxe knows how to accompany its students in the reality of business between classicism and modernity.