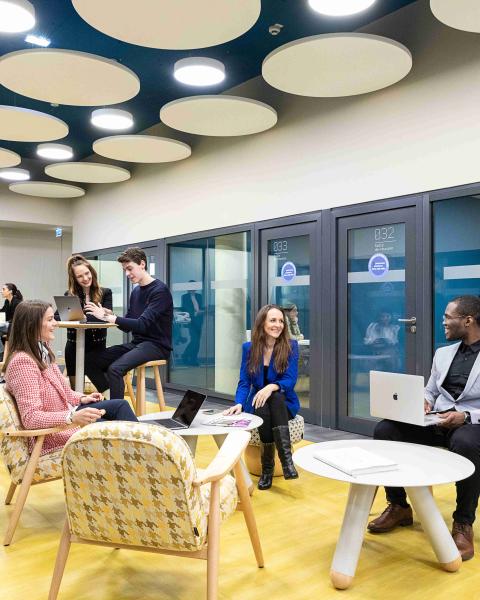 Sup de Luxe's campuses
To better meet the demands of the sector and the growing number of its students, Sup de Luxe, with the support of Planeta Formation and Universities, is present on two modern and spacious Parisian campuses.
An attractive campus in the Pont de Flandre Park
Sup de Luxe is located in the heart of a vast business and student community (Club Med, Pierre & Vacances, MAIF, MACIF, URSSAF, Grand Paris Aménagement, etc.), innovation platforms and business accelerators (Le Cargo, Paris Région) and major projects for the future (Hôtel Logistique International, Ilot Fertile, Cité Universelle and the Incubateur Métropole 19). The Pont de Flandre Park campus has more than 5,000 square metres of green space and numerous services (village square for lunch, pop-up store, connected relaxation area, etc.). Sup de Luxe students live in a privileged setting just a stone's throw from the Parc de la Villette, where they can take advantage of numerous services: cinemas, shopping centres, sports halls, etc.
The north-east of Paris is a strategic location for companies, many of which have set up shop there, including several luxury brands. These include the Hermès workshops, the Odiot goldsmiths, and the Bourgeois cosmetics factory in Pantin. The Richemont group has also been seduced and has set up part of the activities of the Cartier brand in Le Pré-Saint-Gervais. Finally, the Chanel brand has a site just a stone's throw from the campus at Porte d'Aubervilliers.
A campus designed for its students
The Institute's premises, which were completely refurbished in 2018, allow students to take advantage of more than 8,000 m2 spread over 5 floors.
The 360-degree orientation, architecture and layout of the campus provide an ideal setting for studying. In addition to the classrooms, Sup de Luxe offers several spaces designed to meet the needs of students:
Fully equipped computer rooms
A large cafeteria with the possibility of eating from 8 am to 5 pm
Group work rooms
Relaxation areas and agora on all floors
How to get to the campus?
Sup de Luxe
15, rue de Cambrai
75019 Paris  
Transportation
By metro: Line 7, Corentin Cariou stop
By RER: Line E, Rosa Parks stop
By tram: Line 3b, Porte de la Villette stop
By bus: Line 60, Corentin Cariou stop - Line 71, Cambrai stop - Line 239, Rosa Parks stop Line 150 and 152, Porte de la Villette stop
A location in the heart of Paris
This campus, typically Parisian in its architecture and history, is located in the heart of the 7th arrondissement of Paris, in premises situated between the Champ de Mars and the Esplanade des Invalides.
It is mainly used for evening courses and training.
How to get to the campus?
Sup de Luxe
1, rue Bougainville
75007 Paris  
Transportation
By metro: Line 8, Ecole Militaire stop
By bus: Line 28, stop Rue Cler, Lines 26, 80, 82, 86, 92, stop Ecole Militaire