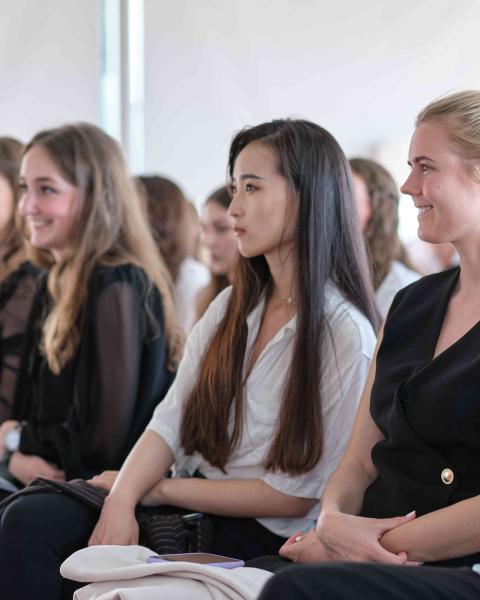 Educational counselling: how to choose a course in luxury?
Sup de Luxe, an institute specialised in luxury management within EDC Paris Business School, created by leaders of the sector, gives you its advice on how to choose a course in luxury.
Bien choisir sa formation dans le luxe, comment faire ?
Define your professional project (Bachelor's degree, MBA, which speciality, etc.)
Search for training courses (Eduniversal, fairs, etc.)
Make sure that the courses offer guarantees in terms of quality (state-recognised title (RNCP), Grandes Ecoles programme, etc.)
Meet the training institutes / campuses during Open Days / Evenings, fairs, high school forums, etc.
Gather external opinions on Google or by talking to Alumni, current students, the Student Association, etc.
Make an enlightened and heartfelt choice
Checklist of questions to ask yourself
I have taken the time to think about it and I have no regrets
I have put together my project well, I have no doubts about my orientation
The training I chose will help me to have the skills that recruiters are looking for
The duration and pace of my training correspond to my personal and professional constraints
The organisation assessed my level before accepting me and we carried out a preliminary positioning action.
I checked the possible outlets and I am even followed up for a while after the training.
My organisation is referenced on Qualiopi, recognised by employers and my training is certifying and eligible for the CPF
I have met several organisations... And not only in my area
I visited the premises and saw the equipment
If the course is cancelled, I have a plan B or even a plan C
I have made an estimate and I know the overall cost of the training.
Why choose a programme at Sup de Luxe?
Since its creation, the Institute has been an undeniable success, and each year welcomes around 500 students from France and abroad. These students aim to work in the luxury industry in a variety of sectors: jewellery, gastronomy, real estate, fashion, etc.
Ranked first in the rankings of courses preparing for the luxury industry and luxury management, our programmes are references in France and abroad.
For 32 years, Sup de Luxe has been an institute of luxury marketing and a Cartier Chair that welcomes more than 400 students from all over the world every year.
We offer you the opportunity to enrol in our Bachelor's degree in Luxury Business, or in one of our 5 MBA / MSc programmes:
The benefits of studying at Sup de Luxe
The Institute provides the keys to the world of luxury and its marketing through a succession of unique opportunities:
Executive programmes that are constantly linked to the needs of the sector
A teaching programme taught mainly by professionals from the brands and Maisons, but also by high-level research professors
Weekly contacts with the decision makers who make luxury
Visits to companies, trade shows, design studios, production centres, logistics centres, etc.
Study trips in France and abroad
Interviews with recruitment agencies and human resources managers
Meetings with the press and media
Regular support from a network of 3000 graduates who hold positions of responsibility in companies in the sector
Evening classes to enable MBA students to take up a job or internship during the day. With a focus on professionalization, our institute is the open door to the application of our teachings to a sustainable job.
Recognised worldwide, the Institute is in demand by hundreds of students, both French and international, as well as by professionals in retraining.