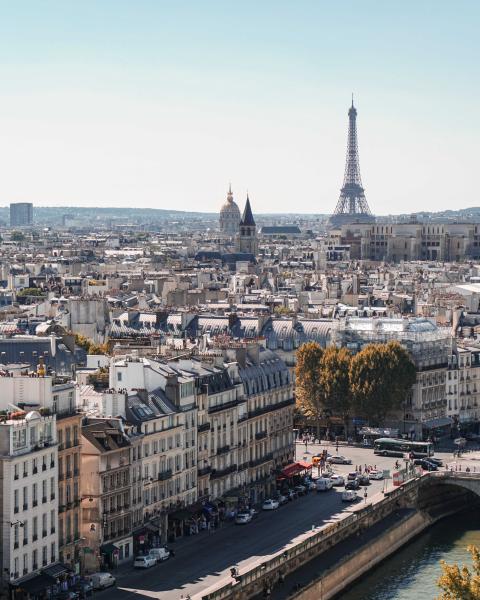 Luxury, a booming sector and job opportunities
Sup de Luxe exposes you to the current and future challenges of the business, which ultimately have an influence on the luxury jobs.
The luxury sector: a world of its own
To succeed in the sector, young managers need to have a thorough knowledge of its codes, the different economic models, marketing techniques and strategies, but also the specific applications of international distribution of luxury products and services. They must understand that luxury is a world of permanent creativity, which they must know how to nurture while respecting tradition and learning from the latest innovations in our world.
Trends of the luxury sector: a perpetual (r)evolution
The luxury market had a spectacular year in 2022, marked by an increase in transactions in the United States, which is becoming the number one luxury customer, thus overtaking China. There are many reasons for this progression: the social opening of the luxury market, an increase in the share of UHNWIs (Ultra High Net Worth Individuals) consuming locally and, above all, an increase in generations Y and Z, which have added to and diversified the historical clienteles. According to a study by Bain & Company published in November 2022, spending by generation Z and generation Alpha will increase about three times faster than for the other generations between now and 2030, making up a third of the market.
This transformation of the customer base is accompanied by changes in purchasing behaviour, but also by expectations regarding the values displayed and promoted by luxury Maisons: excellence, emotion, experience and ethics. Excellence, the flagship value of luxury, is always linked to exceptional quality service, whether in person or online. More than ever, brands must highlight their craftsmanship and the use of high quality materials. The purchase of a luxury product must also provide emotions, which are achieved through an aesthetic adapted to the codes of the new generations. In their purchasing process, customers also want to live a unique, immersive and entertaining experience. Ethics are becoming increasingly important. Luxury brands have to show their commitment to diversity, inclusiveness and sustainability.
The characteristics of the luxury sector: values that shape the future
Luxury and sustainability
The world of luxury is increasingly adopting CSR in order to meet the demanding requirements of customers, who no longer consume only products/services but brands with which they share the same values. Social, environmental and economic concerns are therefore considered transversally in the strategy of the Maisons: sourcing (transparency on suppliers), traceability (thanks to the blockchain), manufacturing process (no more use of animal fur, carbon neutrality)...
Second-hand luxury purchases are no longer a taboo. Driven by the younger generations (54% of generation Z and 48% of millenials), this market represents a real economic boon for the luxury sector. With 33 billion euros generated in 2021, the second-hand market is growing 4 times faster than the new market! The circular economy nevertheless brings new reflections for the luxury sector. For example, how to adapt the customer experience, not cannibalise new products or even dilute the exclusivity of the brand?
Luxury and Diversity & Inclusion
The new generations are not afraid to make their voices heard for causes that are close to their hearts. This is why they expect brands and Maisons to be responsible and representative of humanity in all its diversity. And the risk can be great for Maisons that do not meet these new "requirements": bad buzz on social networks, requests for a boycott, withdrawal of collections, etc.
In a context where brand commitment is no longer an option, the leaders of the sector want to set an example and separate themselves from the image that luxury can sometimes send out: too traditional, too disconnected and not very committed. Whether through public statements (Kering's press release against racism following the death of George Floyd), donations to associations or internal initiatives to promote equality (EllesVMH), luxury is committed and proclaims it loud and clear.
Luxury and globalization
The sector was driven in 2022 by the United States (€85 billion) but also the European market (€60 billion) thanks to the recovery of tourism and a return of local customers. Although important, the Chinese market (€80 billion) has nevertheless declined by 10% after 5 years of constant growth, due to the country's anti-Covid policy. The luxury market is international, with a presence on all continents: the market is estimated at €30 billion in Japan, €40 billion in the rest of Asia and €17 billion spread over different areas such as Russia, Latin America, the Gulf States, etc.
The French art de vivre is a source of fantasies. Our many renowned Maisons, often centuries old and heirs to a specific know-how, never cease to demonstrate their ability to renew themselves while remaining faithful to this image of excellence. An image that makes people dream and is reinforced by popular culture and the media (83% of Americans believe that the Emily in Paris show is close to reality). The French group LVMH is number one among the largest companies in the sector, proof that this know-how and excellence works at a global scale.
Luxe and digital
The e-commerce market was worth 62 billion euros in 2021 and, according to McKinsey, 20% of luxury goods sales will be made online by 2025. It therefore seems more important than ever for Maisons to maximise the use of digital in their marketing strategy.
In parallel to the classic e-commerce site, the Maisons are bursting with creativity to offer online experiences in order to attract new customers (Millenials, Gen Z & Y): remote fitting programmes, ultra-personalised chat bots thanks to AI or even live shopping. The latter could even represent 20% of global e-commerce sales according to McKinsey!
Technologies are pushing back the limits of the imagination and offering new possibilities in terms of experience and consumption. Gaming, virtual reality and metaverse are new playgrounds for luxury Maisons: collaboration with video games, cryptocurrencies, NFT, blockchains... A market that could represent 10% of the luxury market in 2030 according to the Morgan Stanley bank!
Booming jobs in the luxury sector
Numerous opportunities and doors are opening up for luxury enthusiasts, thanks to this multi-billion dollar market, which should continue to grow in the years to come. Also, the trends and values shaping the sector are helping to further develop the luxury professions. Here are the main fields in which tomorrow's professionals will be able to flourish, and in which Sup de Luxe strives to train its students:
Creation

Marketing & communication

Retail & customer experience

Digital & e-commerce

Visual merchandising

Inbound channels

Personalization

Service & Support

Visual merchandising

Second hand

New markets & new customers

NFT & metaverse

CSR, sustainability & circularity

Entrepreneurship & innovation

Distribution & supply chain

CRM
If you are passionate about luxury and would like to make a career in it, do not hesitate to consult our academic offer or contact the Sup de Luxe admissions advisors directly so that they can help and guide you in your orientation.